Denise is our Customer Experience Manager and a great cook. This is one of her favorites - a hearty, delicious meal.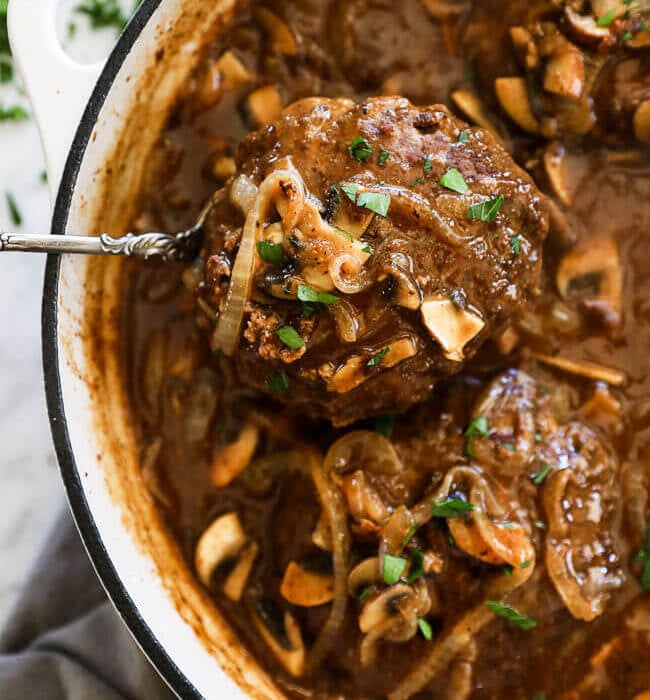 Ingredients
SALISBURY STEAK Ingredients
1 lb Heartstone Farm 100% Grassfed Ground Beef
1/2 cup breadcrumbs
1 tsp onion powder
1 tsp garlic powder
1/4 tsp black pepper
1/4 tsp salt
2 tbsp ketchup
1 tsp Worcestershire Sauce
1 egg
GRAVY Ingredients
1 large onion
1 green pepper
2 brown gravy packets
2 tbsp olive oil
Directions
STEAK DIRECTIONS
In a large bowl mix all ingredients together.
Make 4 to 5 patties.
In large pan on medium heat till cooked through about 4 mins on each side.
GRAVY DIRECTIONS
In large pan add 2 olive oil and place on low to medium heat.
Dice onion and green pepper and add to pan. Cook till tender.
Add water (amount on gravy package) to pan with onions and peppers and bring to boil. You will deglaze pan and you will get all the amazing flavors.
Add gravy mix and stir.
After gravy is done pour over Salisbury Steak. Let simmer for couple minutes.