We deliver and ship our beef, pork and chicken from our farm in Maine to homes throughout the Northeast.
Orders over $129 ship free.
Orders under $129 pay $19.95 for shipping.
We ship to the following states: CT, DE, DC, ME, MA, MD, NH, NJ, NY, OH, PA, RI, VA, VT, WV.
We use UPS Ground.
We no longer ship outside of the Northeast.
We usually ship Monday through Wednesday. Orders take 1 day to 3 days to reach you. We use dry ice, ice blankets, and our recyclable insulation and boxes to insure your order arrives in excellent condition.
We guarantee your meat will arrive in excellent condition - it's our responsibility.
We carefully box your order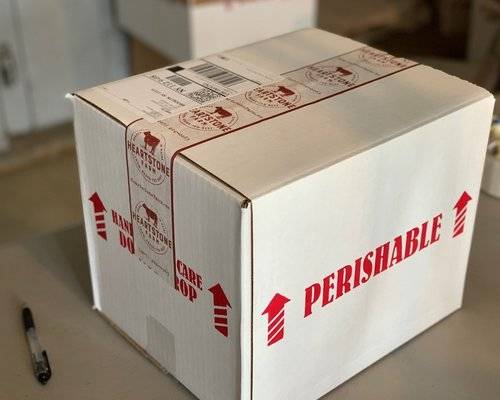 We take extra care to insure your order arrives cold/frozen and in excellent condition. We're proud of our meat and we want to insure that the journey from our farm to your home is without incident. If your meat should ever arrive in less that perfect condition, please notify us immediately and we'll fix it.
We use dry ice for shipments outside New England to insure your beef arrives in excellent condition.
Safety and Your Meat
Sometimes meat will begin to thaw during transit. This is normal and not a problem. As long as your meat is "refrigerator cold" (41 degrees or less - it feels to your touch as cold as if it was in your refrigerator) - the USDA says it's safe. In fact because it is in vacuum sealed packaging it can be refrozen with no quality or safety issues. Contact us if you have questions or concerns.
Beef Shares delivered to your home
We deliver Quarters and Sides to our Beef Share customers all year long. Many of our deliveries are "in person" using our new freezer van pictured above. Shipments beyond Boston are shipped by UPS using dry ice. We guarantee your beef will arrive in excellent condition.
When you place your order for a Beef Share you will be contacted to arrange for delivery.
Beef Share Delivery to Maine, New Hampshire and Greater Boston: $49
Outside those areas: $129
WE CURRENTLY ONLY OFFER IN-PERSON SHARE DELIVERY TO MAINE, NEW HAMPSHIRE AND MASSACHUSETTS. Outside of those areas - but in the Northeast US - we can ship your Beef Share for an additional charge of $129.
Got a question or concern? Call us at (207) 424-0063 or email info@heartstonefarm.me